Overview
Bosch Universal Mixer Slicer/Shredder Attachment - Comes with 3 Disks: Thick/Thin Slicing, Fine/Coarse Shredding, & French Fry.
Description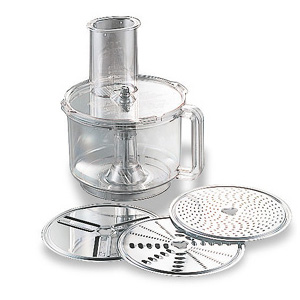 Slicer/Shredder accessory for the Bosch Universal Kitchen Mixer includes: Thick/Thin Slicing Disk, Coarse/Fine Shredding Disk, and Potato French Fry Disk. Cuts produce, cheese, etc., directly into the medium capacity bowl. Capacity is 12 cups.

ADD A WHISK ASSEMBLY TO YOUR SLICER SHREDDER FOR ONLY
$69.99 (REG $76.50)
We often use this particular whisk for making frosting for cinnamon rolls, and cookies while using the main bowl for the cookie or bread dough. It is also great for whipping cream, eggs, egg whites, cake batter and other light whipping. it will NOT mix cookie or bread dough, as it is too thick, and will break the whisk.