Overview
Kitchen Aid Grain Mill Attachment w/ Hand Base
Description
The Family Grain Mill ® For Kitchen Aid Mixers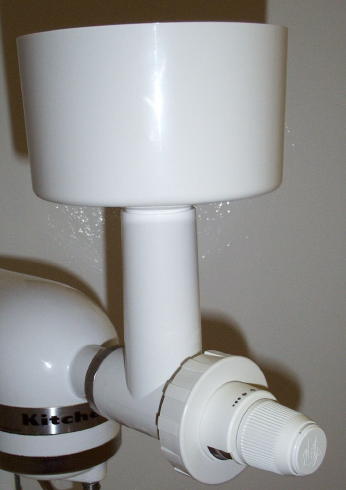 Quality:
Manufactured in Germany for 27 years by Messerschmidt. Built with premium Lexan and hardened surgical steel burrs. This is a durable grain mill capable of a lifetime of dependable use. Adjustable from fine to coarse.
Easy Set up
:
Compact Storage: The grain mill will fit on the KitchenAid with a twist of the wrist. Easy to store in your without taking up much room.
Cool Grind
:
The mill steel burrs grind low temperature frictionless milling, avoiding the heat created by most grain mills, giving a true grind. Heat can destroy many of the nutrient in your flour.
Fast & Easy to Use:
A cup of fine flour is produced in approximately one minute with the KitchenAid Stand Mixer. Large 5 cup hopper open hopper for continues grinding of grains.
Fast Cleanup & Dust Free
:
Family Grain Mill ® easily and quickly remove for cleaning. The Family Grain Mill ®
is dust-free.
Mills:
Wheat, oat, corn, not popcorn) rye, spelt, kamut, barley, rice, peas, most beans, coffee, flax seeds, sesame seeds, most dried herbs, dried jalapenos and other hot peppers and more.