Presto® Professional 8-Quart Stainless Steel Pressure Cooker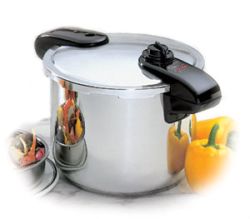 Cooks healthy, flavorful meals, fast and easy!

Cooking times are 3 to 10 times faster than ordinary cooking methods. Even faster than a microwave for many foods.

The smart choice for preparing today's lower calorie foods. Chicken, fish, and vegetables cook to perfection in minutes. Helps tenderize leaner cuts of meat.

Pressure cooking preserves flavors and nutrients.

Tri-clad base features a layer of aluminum sandwiched between two layers of stainless steel for quick, even heating.

The quick pressure/steam release system ensures precision cooking.

Luxurious stainless steel for long-lasting beauty and easy cleaning.

Includes stainless steel steamer basket and 64-page instruction/recipe book.

Extended 12-year limited warranty.

8-Quart Liquid Capacity (7.6 liters).